We are a book-loving family. But even though we have books pretty much everywhere, I do like to fill a special box or basket with books that appropriate to whatever season, holiday, or prevailing theme is taking over our home. Here are some of our early September favorites.
First we have Evelyn M. Finnegan's My Little Friend books. I bought these for Daniel as a birthday gift a couple years ago and he absolutely loves them. We even had our own "little friend" to go along with them. I hope the twins enjoy them just as much and I know Daniel will love hearing them again.

We have
My Little Friend Goes to School

My Little Friend Goes to the Dentist

My Little Friend Goes to the Zoo

and
My Little Friend Goes to a Baseball Game
There are lots of directions out there for making your own little "pocket gnomes" but we've found that these do in a pinch as well:


Pocket Gnomes, Set of 2
Another gnomie favorite around here are Jim Arnosky's Crinkleroot books. I love how these books work on so many levels. The twins love the adventures of Crinkleroot, the friendly gnome, as he wanders about the outdoors, but older children can pick up a lot about nature from the books as well.

Some of the Crinkleroot books we enjoy are:
Crinkleroot's Guide to Knowing the Birds

Crinkleroot's Visit to Crinkle Cove

Crinkleroot's Guide to Knowing the Trees

Crinkleroot's Guide to Walking in Wild Places

Crinkleroot's 25 Birds Every Child Should Know
And if you're interested, Jim Arnosky has a website with lots of bonus material here.
I'll be putting out two Elsa Beskow favorites as well–
Woody, Hazel and Little Pip [Hardcover] [June 1990] (Author) Elsa Maartman Beskow

and
Children of the Forest
And oh, how tempted I am to buy this little forest child from Pretty Dreamer on Etsy as well!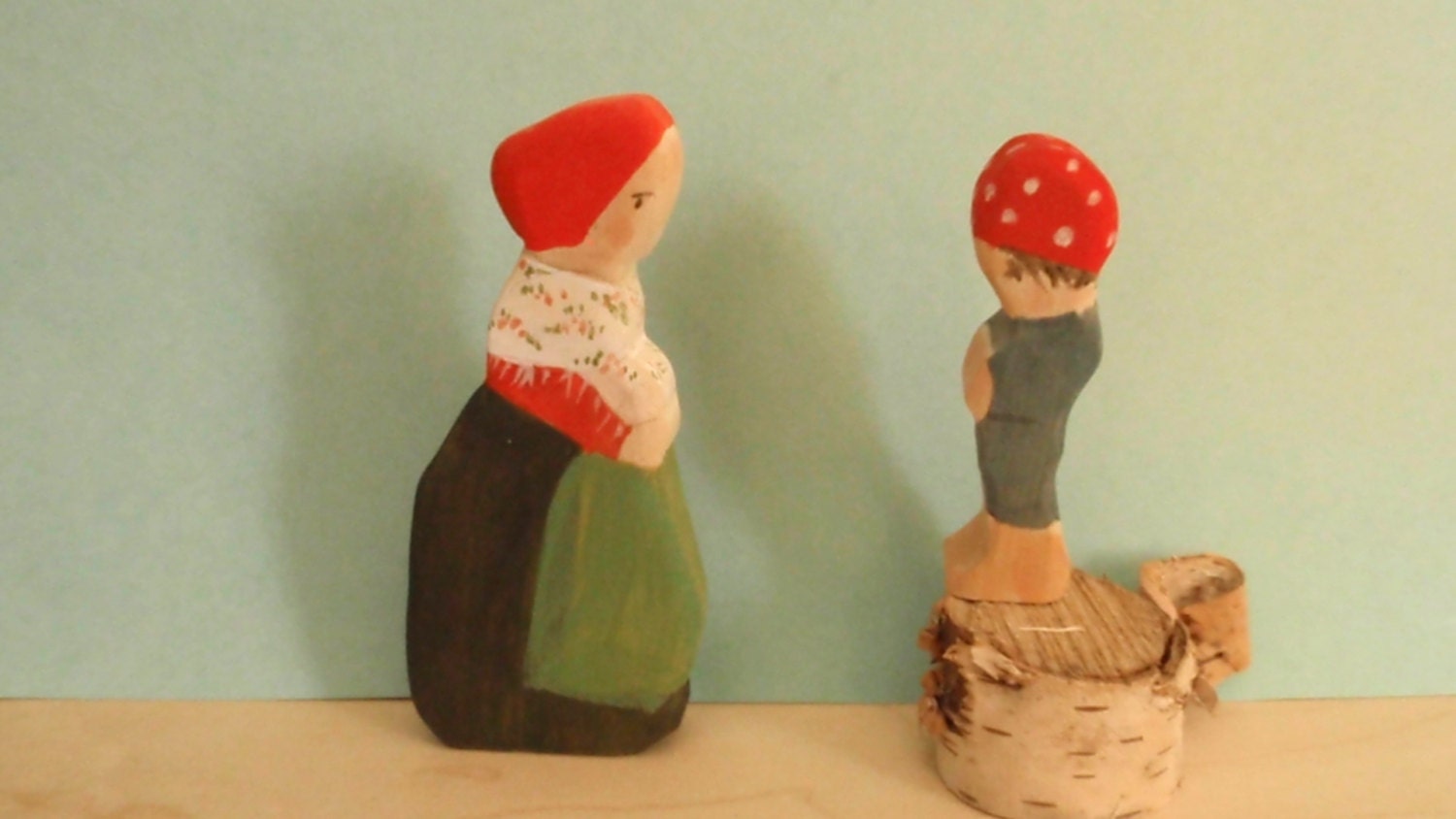 I did pull out a Rumpelstiltskin book, although I'm still not sure if I'll use it. As far as retellings go, The Story of Rumpelstiltskin (Usborne First Stories)
is pretty gentle.
We have these two as well, Gnome Rhymes and Wonderwhiskers/Ned the Gnome, but I couldn't find links.

Finally, we're pulling out You Can Go to the Potty (Sears Children Library)
. Because it's time. Sigh.
And of course, these are just once in a while, sit on my lap and read or explore on your own books. We still have our folk and fairy tales "told from the heart" from Autumn Seasons of Joy, a family read-aloud after lunch, an audio book going in the car, pedagological stories told as needed… there's always a tale being told around here!
So what's in your book basket?